Are you looking for somebody to provide quality home care for your elderly parents?
As much as we want to be the ones providing health care for the elderly at home, we can't just leave our work, duties, and other responsibilities. Our time is limited when it comes to giving comfort and care to our elderly loved ones. This is life and other roles and responsibilities that we have to fulfill.
However, giving health care for the elderly can still be made possible with the benefits of home care services.
A home care company offers a pool of caregivers who provide health care for the elderly by giving them assistance and other healthcare support. This helps a family with seniors in providing elderly home care solutions. Especially to those who do not have much time to take care of the senior members of the family.
What are the advantages of home health nursing and why should you hire caregivers from agencies that offer home care to aging patients?
Here are the benefits of homecare services and why, if you have elderly members at home, you should ask for elderly care and assistance.
The Benefits of Homecare Services
1. Become Comfortable at Home
One of the best advantages of home health nursing is that the senior patients can still be in the comfort of their home. They don't need to adjust and learn to deal with a new environment. Through home care services, they can be provided with proper assistance and still be able to stay in the place they are already comfortable with.
2. Personalized Care and Assistance
Giving your elderly parents home care means that they will always be provided with quality care. The caregiver focuses on giving complete support and assistance to one person only. Because of that, the home care provider can be able to provide the medication, hygiene, and other needs of the elderly in a more efficient way.
3. Stay with the Family
Being with the family helps maintain good mental and emotional health of aging adults. Those who are away from their family are likely to be more irritable, impatient, and short-tempered. On the other hand, giving home health care for the elderly makes them become more comfortable and loved. They will be more responsive to the assistance and medications that are given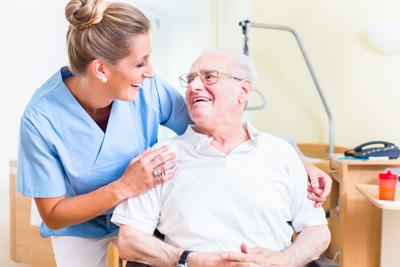 to them.
4. Peace of Mind
Another one of the advantages of home health nursing is that it gives peace of mind both for you and the elderly, because they are taken care of inside your home and you can be assured of their safety. On the part of the senior members, they know that they are loved by staying in their home instead of being sent to an institution.
Take the Advantages of Home Health Nursing
Despite all your busy schedules, you can still provide care and comfort to your aging parents without having to send them to elderly institutions. In this way, your parents they will not feel neglected. They can still taste the comforts of their own bed sheets, the smell of their garden, and still see their grandchildren grow. Make them feel loved and still carry out your other responsibilities by hiring home care services.